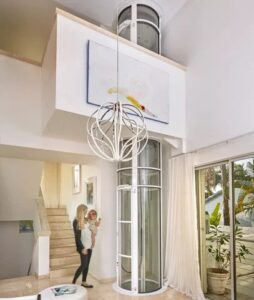 RESIDENTIAL ELEVATOR PVE30
Single Passenger Residential Elevator
Residential Elevator – PVE37 – Standard Features
No pit, hoist way, or machine room required

Self supporting structure

50 ft (15m) Total Rise Max

30 ft/min travelling speed

Two to Five Stops

External cylinder diameter: 933mm (37 inches)

Internal cabin diameter: 813mm (32 inches)

Internal cabin height: 1956mm (77 inches/ 6'5")

Entrance way opening: 534mm (21 inches)

Through Floor or Balcony Mount Landings

Power Supply: 30 AMP 220VAC

In-­line, 180° and 90° door openings*

Aluminum and polycarbonate cylinder structure

Automatic interior LED lighting and fan

Mechanical emergency safety brake system

5 years limited manufacturer warranty

ASME A17.7 Certified

*All Upper Floor Doors Must Be Same Side Door Openings for 90° Door Configuration
Residential Elevator – Two-­Passenger
The PVE37 has paved the way for the rest of the pneumatic vacuum elevators lineup. The many features of this PVE37 home lift make it a great option if you want something more spacious than the PVE30, but do not have enough room or the need for the wheelchair-accessible PVE52. It measures 37 inches in outside diameter and 32 inches wide on the interior of the cabin. This air-driven residential elevator can safely carry two adults, or 450 lbs, up to as many as five stops or 50 feet in total rise. For an even more comfortable ride, you can opt to have a cabin seat installed for a single rider to sit on while being carried up to another floor.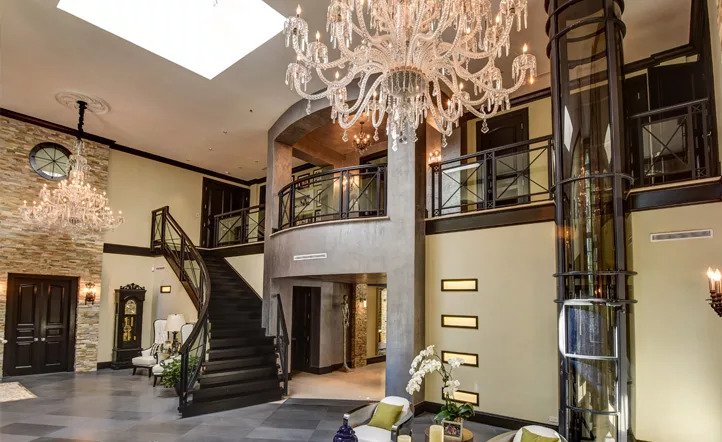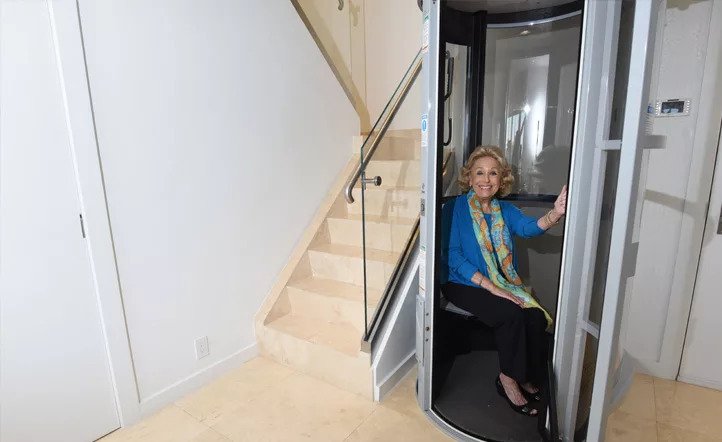 Space-Saving Solution for Your Home
The compact PVE37 residential elevator is the perfect option for an existing residence as it does not take up much space, but still accommodates all of the desired applications of any residential elevator. Whether it is used for passengers, suitcases, pets, household items, or anything else, the PVE37 lift serves a number of functions without the consuming footprint and significant construction costs required of a traditional home elevator.
Innovative Design
The PVE37 offers in-line (same side) or 180° (opposite side) door openings with one door at each elevator landing. Standing outside of the round elevator and looking at the door, the door opens from left to right (top right hinged). The door width opening is 20 ½ inches which will accommodate a passenger with a walker.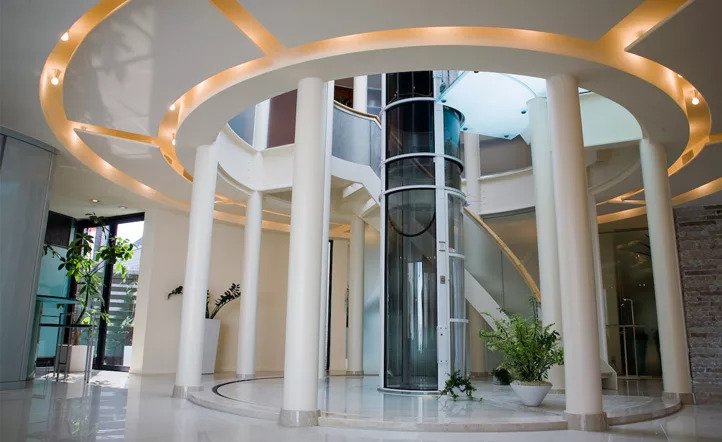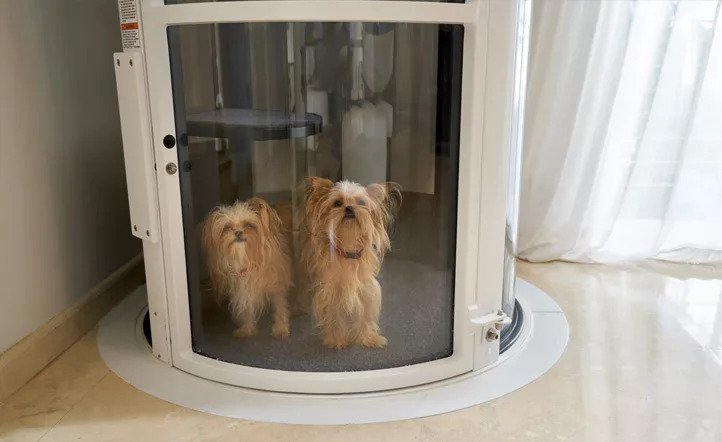 Absolute Safety
The PVE37 is nothing short of a technological marvel! This home elevator operates with five individual turbines, but these powerful turbines only use 5 kilowatts of electricity, making the PVE37 an environmentally friendly home elevator. It runs off of a 30 amp/220 volt power supply, which is the same as most washer and dryers. If the power goes out in your home, you will not get stuck in the elevator. The safety system is designed to automatically switch to a slow descent when the power goes out, and mechanical brakes engage if the elevator ever begins to free fall.
Another great benefit of this home elevator is that there is very minimal maintenance required. The only scheduled maintenance per the ASME A17.7 certification is every five years or approximately 15,000 lifts on average. This is when the main seal needs to be replaced. There is a significant cost savings over time if you are to compare this to the regular service required for a traditional residential elevator!
As you look more into it, you will be no doubt find that the PVE37 offers everything you need in a residential elevator.