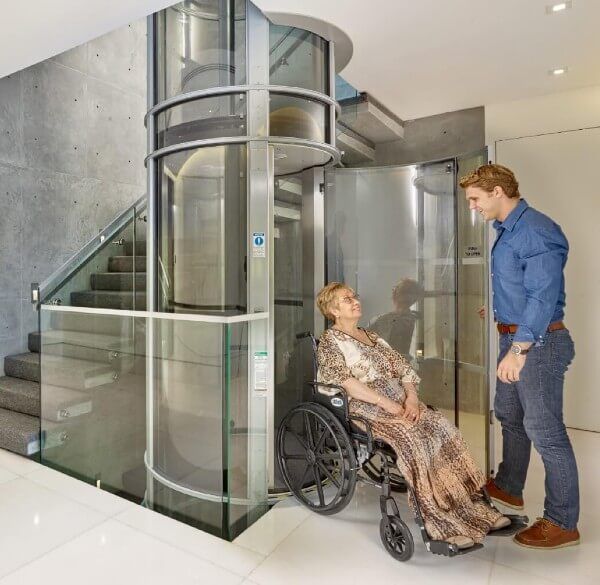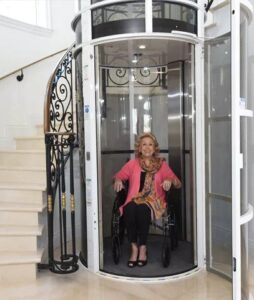 RESIDENTIAL ELEVATOR PVE52
Three Passenger Residential Elevator Wheelchair Accessible
Residential Elevator – PVE52 – Standard Features
No pit, hoist way, or machine room required

Self supporting structure

50 ft (15m) Total Rise Max

20 ft/min travelling speed

Two to Five Stops

External cylinder diameter: 1,316mm (52 11/16 inches)

Internal cabin diameter: 1118mm (43 1/2 inches)

Internal cabin height: 2007mm (79 inches/ 6'7")

Entrance way opening: 813mm (32 inches)

Through Floor or Balcony Mount Landings

Power Supply: 35 AMP 220VAC

In-line and 180° door openings

Aluminum and polycarbonate cylinder structure

Automatic interior LED lighting and fan

Mechanical emergency safety brake system

5 years limited manufacturer warranty

ASME A17.7 Certified
Residential home elevators Fit anywhere! No Machinery necessary.
This is the largest of the three vacuum elevators, capable of carrying three people or two people if one is in a wheelchair. Even our largest lift takes up less space in your home than other traditional elevators. Like all other vacuum elevators, the PVE52 does not need a separate space for machinery or additional room above and below the lift for a pit. Since the unit has a self-supporting structure, you will not have to add a frame to your home before installing it. This means you can fit this lift anywhere in your home!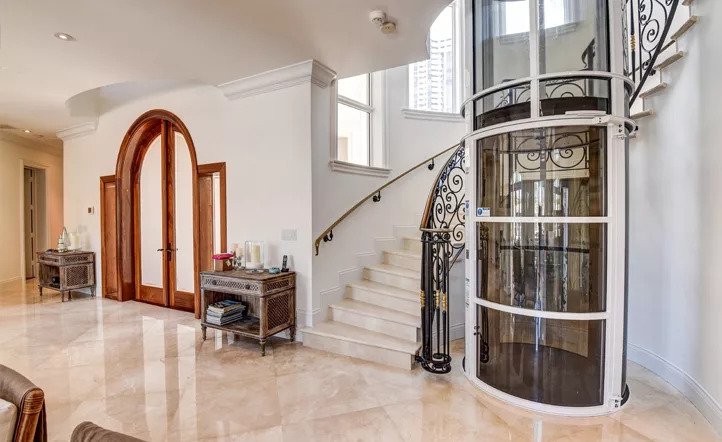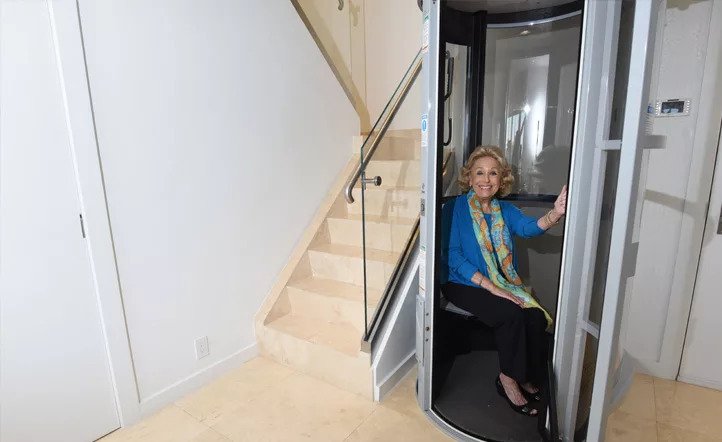 ECO-Friendly: Plug & Play Residential Elevator
Don't forget that this vacuum elevator model won't be costly in your electric bills. As an environmentally-friendly home elevator, the only electrical required to power it is 220V, 35 Amp, single phase service. This wheelchair-accessible residential elevator maintains all of the safety and technology features that the other PVE models have as well. Should a power outage occur, the vacuum lift safely descends to the lowest level and the mechanical door lock enables the passenger to exit, preventing passengers from getting stuck. The cabin is equipped with an LED light as well as a cabin fan that circulates the ambient air throughout the elevator car.
Wheelchair Accessible Home Elevator
The PVE52 can be set up to have between two to five stops, which means it can be used in homes up to five stories or a total of 50 feet. It has an external cylinder diameter of 52 11/16 inches. Inside the unit measures a roomy 43 1/2 inches in diameter. This provides enough space for a person in a wheelchair with an attendant or for up to three adults to stand in comfort. The cabin height is 6′ 7″, which is tall enough for provide headroom for most people. Rolling a wheelchair through the 32-inch wide entrance opening is easy to do! With same side or opposite side door offerings, the largest of the residential vacuum elevators can be configured to accommodate almost any elevator installation.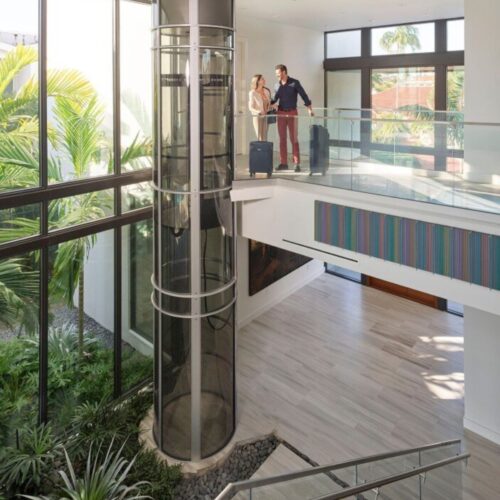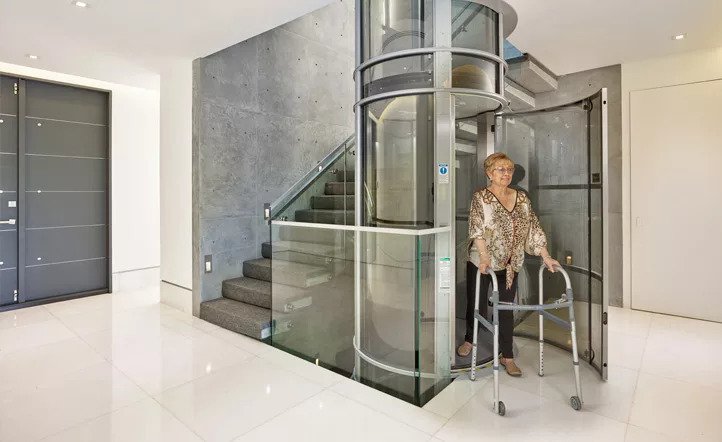 Innovative Design: Panoramic Visibility
There are many options for wheelchair-accessible elevators or wheelchair lifts, but only the PVE52 gives you the space you need, the safety features you require, and a design that compliments your home's decor. When you or a loved one needs help getting around in your home, installing a residential wheelchair lift is a good choice.
Never has accessibility been so affordable, so attractive, or so simple!