Montolit produces a wide range of professional tile finishing tools designed to obtain the perfect finishing on porcelain tiles, ceramic tiles, glass mosaic and glass tiles, as well as granite and marble.
A high quality edge finishing is required when the cut or the hole is exposed (customers can see it). We manufacture tools for finishing surfaces, corners and even tile finishing tools for cleaning holes (round beveling when the hole is exposed).
Montolit professional finishing tools
Montolit catalogues includes a wide range of professional tools for tile finishing, profiling and beveling such as:
Tile Polishing Pads.
Tile Beveling Machines
Special finishing tools
They are designed to last longer compared to similar tile finishing tools and they are all made in cooperation with tiling schools located in more that 10 countries. Also, they are engineered to perform at its best according to the specific material it's used on.
Tile polishing pads and tile profile tools are our best sellers between our finishing tools.
Another plus of the most recent lines of tile profiling tools is that they can be used directly on the job site, avoiding the need to take the tile or the slab to the marble and granite manufacturer.
Tile polishing pads
One of our first and best finishing tools are professional diamond hand tile polishing pads for smoothing the edges of any kind of porcelain, ceramic, glass material.
Montolit introduced tile polishing pads almost 15 years ago and we currently have 7 different grit levels of diamond polishing pads for porcelain tiles and other stone and glass materials on our catalogue.
Each diamond grit is designed to obtain a specific finishing. We start from 60 and get to 3,000. The higher the grit number, the smaller is the diamond embedded on the surface of the polishing pad. Smaller or even micro diamonds are the best option to smooth the corners of glazed tiles or glass mosaic and glass tiles in general.
UNIVERSAL LAMELLAR DIAMOND GRINDING WHEEL FLEXIMONT
Created to smoothing, grinding, make jolly and shaping porcelain stoneware, ceramic, granite, marble, natural stone and glass. – EASY TO…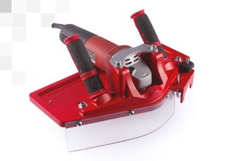 TOPROFILE – PROFILING SYSTEM, TILE BEVELING MACHINE
TOPROFILE is Montolit's new tile beveling machine. This profiling system for ceramics and porcelain tiles & slabs, as well as any…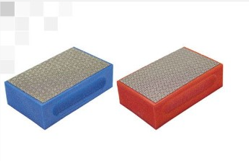 MASTERTECH – DIAMOND HAND PADS
Main proposal: Ideal for smoothing and finishing corners and edges of ceramic, glass and porcelain tiles and coverings in marble…